Consciously Crafted Cuisine
Made with
Passion
Creativity
Joy
Welcome to Alegría. A dining service founded in the picturesque Central American country of Costa Rica. We use food and drink as a means to nourish the mind and body, to re-connect with nature, and create occasions to unite people and celebrate the art of gastronomy.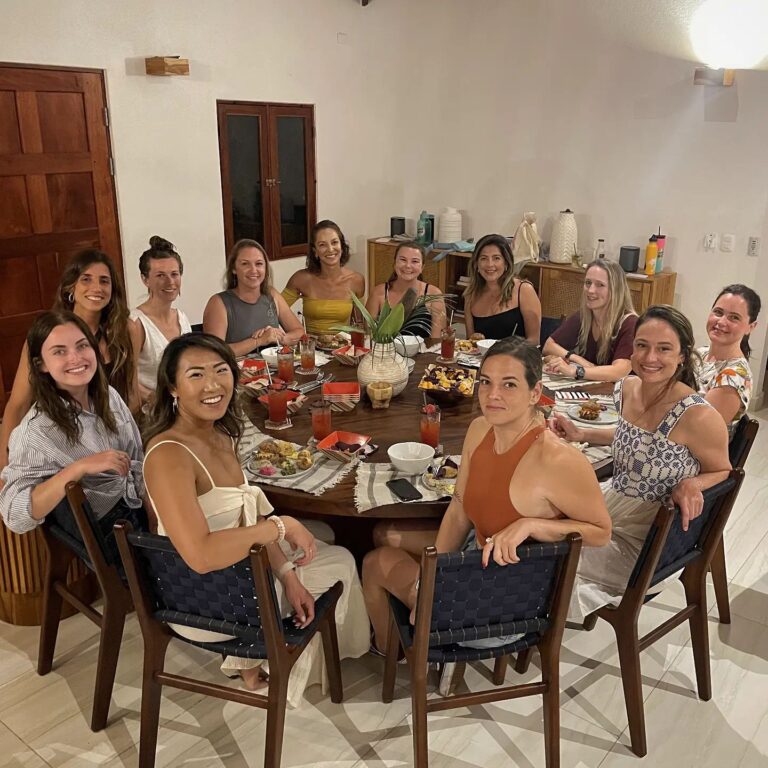 We offer a solution for a more sustainable dining. Need to hire private chef or bartender? Looking for nourishment for a retreat or catering for groups? We got you covered! Our high vibe, low impact menus are lovingly crafted using produce that is, fresh, local, and organic. We avoid the use of any artificial sweeteners and preservatives ensuring each taste leaves a lasting impression.  .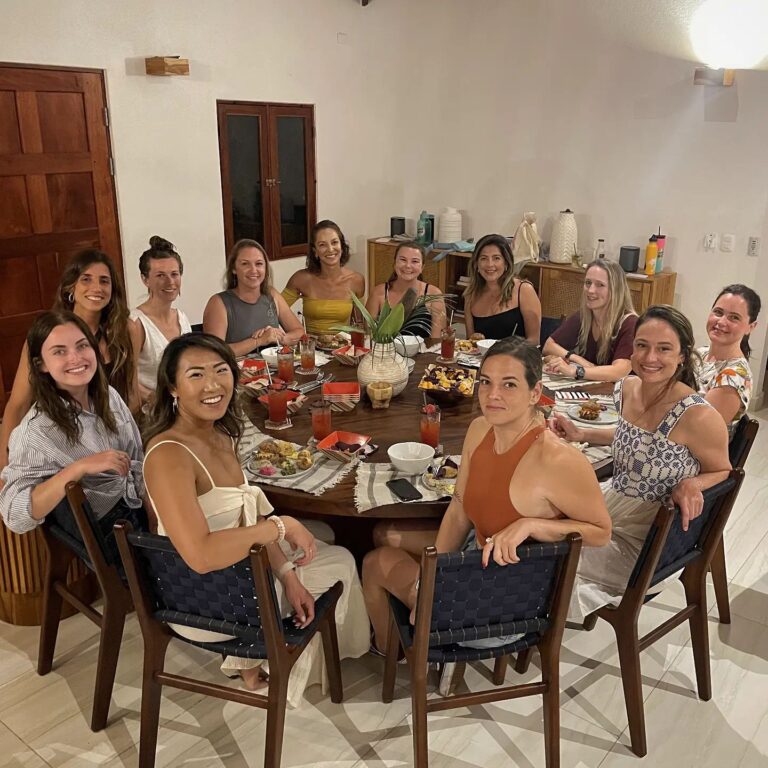 We aim to devise a responsible approach to bridge a gap from the farm to table, developing positive relationships with our partners, and boosting the local economy. We contribute our part to sustainability, by sourcing locally, limiting plastic use, and implementing a strategy for effective waste management including the cleaning supplies we use and how we package our products.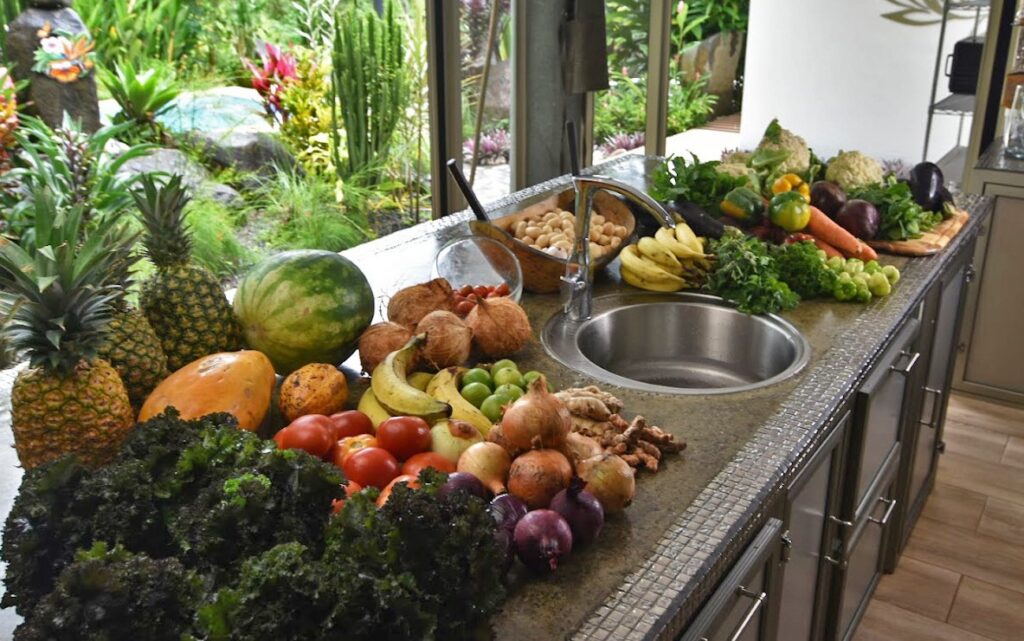 Demand quality, not just in the products you consume, but in the life of the person who made it.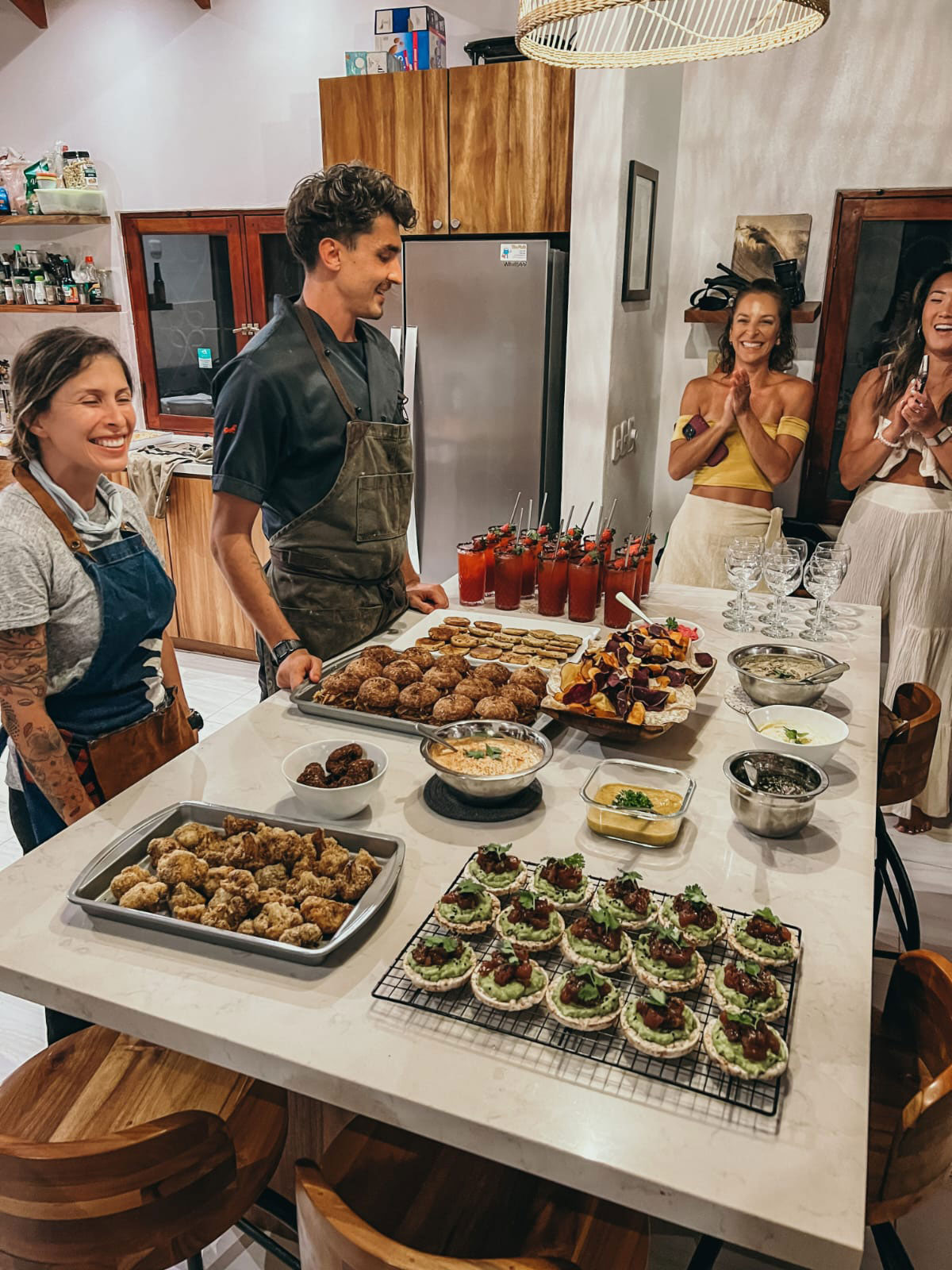 We believe that food and drink are so much more than simply fuel for our bodies. A kitchen is often referred to as the 'heart of the home', and the act of cooking, serving, and sharing is where people truly connect and everlasting memories are formed. A take on the Spanish word 'Joy', Alegría Dining aspires to be the ultimate occasion to come together, socialize and unite, making room for more joy in our lives. By being more joyful a ripple effect happens, we are more likely to give back to others and be more present and engaging. We have a deeper sense of contentment allowing us to move forward and live a healthier and more nourishing lifestyle which in turn benefits those around us; our families, workplaces, schools, our communities and even society at large.
The first day of the retreat, I recall sharing our intentions, and Casper noted that he wanted to offer everyone beautiful, locally-sourced meals to feel healthy and energized during our retreat. Never before have I seen somebody live up to and embody their intentions so much. The food of this trip was a true experience in and of itself. To be greeted each morning with gorgeous, flavorful breakfasts was an incredible start to each day. It was so exciting to look forward to what meal would come next, what combination of exciting ingredients would be used, and how they would be artfully presented. Each one came better than the next. On top of the magnificent meals, Casper is one of the friendliest, most enjoyable people to be around. His warm and loving energy is contagious, and I feel incredibly lucky that I got to experience such a special, unique week in Costa Rica with him. If you want to knock your event out of the park, go with Alegria dining! You will not be dissapointed.
Rachel Kline Synergy
Escape to Embodiment
Hi all! We were planning a retreat in Nosara, Costa Rica and we wanted to give our attendees the best experience possible. We started working with Alegria Dining's team to be able to have all meals sorted for everyone and it was amazing how quickly we got along with the team, and how incredibly supportive they all were with us and our needs. They were able to create a plant-based week-long menu for us taking into consideration everything we needed and it was one of the most amazing experiences we've had in that beautiful city. We had fresh and local products combined with excellent execution and creativity that provide us with a different perspective on how we can eat healthily and eco-friendly. Both Casper and Juanpa exceed our expectations. They shared with us the thought process behind every dish and explained what ingredients they used, this allowed us to understand the dynamic from this project and see how visionary this is. If you are looking to have an incredible culinary experience and try local and fresh products, don't hesitate to work with this amazing team. You'll have to worry about eating as good after your trip to Nosara!
Andrea Ortega
Next level life coaches new earth group
I want to take the time to give casper homewood and alegria dining a bit of GLOW because i am blown away and forever thankful for being left transformed on how i will be connecting with food from this moment forward. Alegria means happiness and joy. All i felt from the food from these part two weeks was just that. I was able to witness first hand the power of connecting to those who source the food themselves. At Alegriadining Casper homewood is truly passionate about sourcing the food from the locals himself and connecting with them on a personal level. It's truly humbling and admireable. There's something special about supporting locals who truly care and love what they do. The energy is infectious and made it's way to my soul in the most nourishing way. The dedication to detail, compassion and recipority was truly felt from Alegria dining. Thank you casper homewood for sharing an extension of your own heart with us all. If your looking for a chef who cares about the people, the country, the stories, the history and the essence then alegriadining is calling you.
Lisa Parente
, Escape to embodiment retreat
Soulfull that i had to drop an appreciation post about all things f o o d Coming into this trip i left any expectation at home. I really came in with an open mind and stomach because if you know me, you know how food has been engrained in my life. The beauty that is Costa Rica wouldnt be the same without the wonderful local farmers, small busisnesses and thoughtful chefs that support each other amongst indigenous and sacred grounds. The intuitive, eloquent and amazing food that came with this experience was sincerly unmatched. Casperhomewood really outdid himself by putting twists on dishes that seemed so practical and made them into something magical, vibrant and most certainly leaving us wanting more. Using produce from local farmers and small businesses. Vegan, gluten free deliciousness for breakfast lunch and dinner. And of course we cant forget the snacks mid workshop when we were all manifesting a bite to eat and that yummy spicy sauce that i will be tracking you down for the recipe. Someone who is impeccable with reading the room, soaking in the energy of the clients and immersing that same thought, time and energy into his meals. A HUGE thank you for keeping us on our toes throughout the whole experience. If you are ever in Costa rica and are in need of a magical and intuitive dining experience reach out to alegria dining for all your needs, This trip wouldnt have been the same without you. Forever humbled and grateful to get to experience your immaculate gift.
Kristin Dixon
Escape to embodiment retreat
Casper pours his talent and love into his work. Not only did he serve delicious, healthy and colorful food but he made sure that the people that were helping prepare the food were taken care of too. It felt so good to know that everything we ate was fresh and locally sourced. The verity and presentation was on point every time and I can honestly say there was never a meal that I didn't love. Not to mention Casper himself was such a lovely person to be around. We definitely need more people and chefs in the world like him. Thank you thank you thank you
Ashley Mills
Escape to embodiment retreat
"I had the spectacular treat of enjoying Alegria Dining for an entire week during a surf trip to Costa Rica. Casper provided in-house cheffing, ensuring my group of 10 was well-fed from morning to night. The cuisine was 5-star: Casper spoiled us with fried rice served in pineapples; turmeric quinoa and trumpet mushrooms; tropical chia seed pudding; avocado toast; pancakes with bananas, strawberries, and homemade Nutella; and breakfast burritos with potatoes, plantains, and homemade, red pepper hot sauce (which I would have bottled and taken home with me if I could). My favorite meal was our closing dinner, in which I ate ceviche on chips, charred tofu with coconut rice and red cabbage, and ginger cheesecake with golden berries and topped with star fruit. Casper's cooking was nourishing and imaginative, delicious and decadent. Every bite was a delight. While Casper's range of skills allows him to cook for anyone, I appreciated the special attention he gave me as a vegan, ensuring that I was never an afterthought. I ate as well as my travel companions, and, in fact, many of their meals were vegan, too! Casper himself was also great company; he was charming and funny, thoughtful and kind. Plus, he played great music while making our meals, creating an entire ambiance! I would hire Casper in a heartbeat and can't wait to see what gorgeous, gastronomic artistry he shares with us when we return to Costa Rica next year."
JAYA BHUMITRA
BLACKHANDS SURFING RETREAT